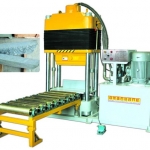 Category
Cutting Machine
Specifications
* Exterior Size:75x200x200cm
* Max Trip:40cm
* Weight:3.1T
* Power:11.55kw
* Pressure:200T
* Voltage:380v/50HZ
* Max Working Size:60x40x20cm
* Output/Hour: 25M2
* Hydraulic Oil Grade: 46#
* Oil Tank Capacity: 250L
* Loadage:4-5pc/20"
Origin
China
Price
USD13760
Keywords
splitting
SY-S200 can easily split both saw-cut and natural face block from middle part into two piece. These blocks are widely used for decoration of interior and exterior walls of villas, luxurious houses,hotel etc. The blades are changable. Sensor's optional to ensure the safety.