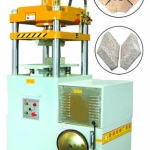 Category
Hydraulic Machine
Specifications
* Exterior Size:105x65x210cm
* Max Trip:20cm
* Weight:1.2T
* Power:4kw
* Voltage:380v/50HZ
* Pressure:50T
* Max Working Size:40x20x10cm
* Output/Hour: 12M2
* Hydraulic Oil Grade: 46#
* Oil Tank Capacity: 190L
* Applicable Moulds: Stamping Mould
* Splitting Mould/Single segmented Mould
* Loadage:14pc/20"
Origin
China
Price
USD5040
Keywords
stamping splitting
SY-S100 Multi-fuctional Stone Splitting Machine with one more function of stamping. It can be easily changed from splitting moulds to stamp moulds. Customized moulds,sizes and shapes are available from our factory. Sensor's optional to ensure the safety.