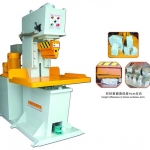 Category
Cutting Machine
Specifications
* Exterior Size:200x100x210cm
* Max Trip:40cm
* Weight:1.8T
* Power:9kw
* Voltage:380v/50HZ
* Flow Rate:60l/m
* Pressure:80T
* Max Working Size:30x40cm
* Maximum Trip: 20x30cm
* Minimum Trip: 3x30cm
* Output/Hour: 18M2
* Hydraulic Oil Grade: 46#
* Oil Tank Capacity: 340L
* Loadage:6-7pc/20"
Origin
China
Price
USD8160
Keywords
splitting
SY-S95 machine can easily split natural face stone into small cubes or cobbles which are widely used for streets, parks, plaza, villas, luxurious houses,hotel decoration,etc. The blades are changable. Sensor's optional to ensure the safety.