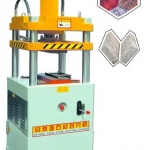 Category
Hydraulic Machine
Specifications
* Exterior Size:58x58x175cm
* Weight:0.8T
* Power:4kw
* Voltage:380v/50HZ
* Pressure:40T
* Maximum Trip: 20cm
* Max Splitting Length: 40cm
* Max Working Size:40x20x10cm
* Output/Hour: 12M2
* Hydraulic Oil Grade: 46#
* Oil Tank capacity: 75L
* Applicable Moulds: Splitting Mould/Stamping Mould/Single-segmented Mould
* Loadage:21pc/20"
Origin
China
Price
USD3360
Keywords
stamping splitting
SY-S72 Multi-fuctional Stone Splitting Machine with the function of stamping. It can be easily changed from splitting moulds to stamp moulds. This machine provides paving stone with different designs, cut-to size with natural faces and mush-room faces.